PlayIt VoiceTrack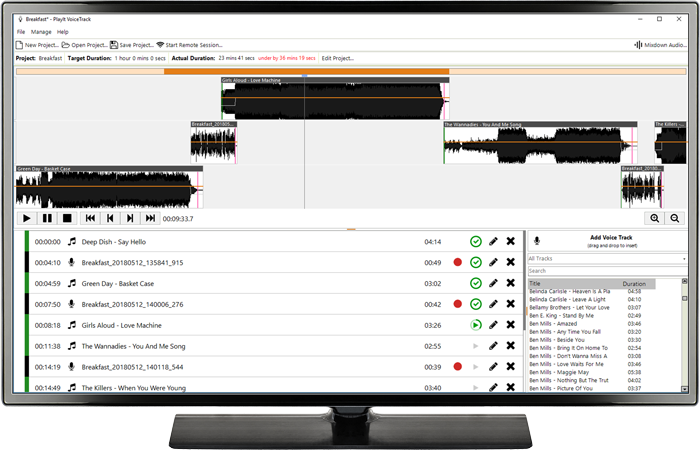 PlayIt VoiceTrack is the offline and remote voice tracking solution from PlayIt Software.
An intuitive, affordable software that allows DJs and presenters to massively reduce the production time of radio shows, both offline or remotely – typically an hour-long radio show can be recorded and put together with PlayIt VoiceTrack in just 10 minutes.
In the current climate with increasing demands and need for home-based production, PlayIt VoiceTrack lets you continue to produce professional radio shows from home while saving hours of production time through a dedicated software solution.
Simplicity
With its clean user interface, intuitive controls and dedicated voice tracking approach there is no steep learning curve to overcome with PlayIt VoiceTrack. You can be up, running and creating in minutes.
Simply drag and drop music tracks into the Playlist area of PlayIt VoiceTrack or select PlayIt Live as your music source.
From here, PlayIt VoiceTrack will automatically populate your playlist in the visual editor and let you drag and drop exactly where you would like your voiceover links to be.
Within PlayIt Voice Track, the segue editor window allows you to set your recording equipment and directly record your voice links.
Once you've recorded your voiceovers and are happy, select your preferred format – MP3 or WAV and let PlayIt VoiceTrack mixdown your completed show, ready to send to your studio.
Definitely check out our demonstration video where we create a playlist and record voice links for a 30-minute radio show in around 5 minutes.
Fine Tuning
PlayIt VoiceTrack provides several on-board tools to give every production a highly polished, professional sounding finish.
Track trimming, voice track volume controls, music track fading and volume controls all work together to give you complete control over the sound of your show, all without ever having to leave PlayIt VoiceTrack.
A Dedicated Solution
Unlike nearly every other available solution, PlayIt VoiceTrack isn't trying to be a jack-of-all-trades, it's focused entirely on delivering a professional voice track recording and segue editing solution. No partial fixes, band-aid solutions or fighting against software to get close to the results you want, just an intuitive software that works out of the box!
Remote Voice Tracking
PlayIt VoiceTrack allows you to record voice tracks remotely. With the click of a button you can start a remote session, working with PlayIt Live or PlayIt Manager.
Through PlayIt VoiceTrack's remote feature you can even add tracks and edit segues all from a remote computer.
A Professional Solution with Professional Results
As life with home studios and home-based productions doesn't look like ending any time soon, PlayIt VoiceTrack allows you to continue producing your radio shows with zero compromise on quality while hugely minimising your production time.
PlayIt VoiceTrack's offline and remote capabilities with on-board editing and mix-down controls make it the perfect, affordable professional solution for our new stay-at-home reality that will keep your listeners happy.
Why not take PlayIt VoiceTrack for a test drive today: